Many now argue gold is in a bubble. Indeed, in recent years demand for gold
as an asset went sharply higher. However, if history is an indication, more likely
than not this will result in enormous gains in the years ahead. Gold is going up
for fundamental reasons, Quantitative Easing (money printing) around the world
and in the US in particular.
Jesse repeatedly argued for bullish cup and handle
formation in the gold market, which is not broken while gold stays above 1160.
The pattern has a target of 1375, which will most likely be reached during the bullish
gold season, August through February.
The seasonal chart for gold is below, from 321gold.
Typically gold bottoms in July, goes mildly higher in August, then takes off in September.
The situation was different in 2008, but that, perhaps, happened due to a sharp rally of the dollar.
Gold reached a new all time high in many major currencies in late 2008.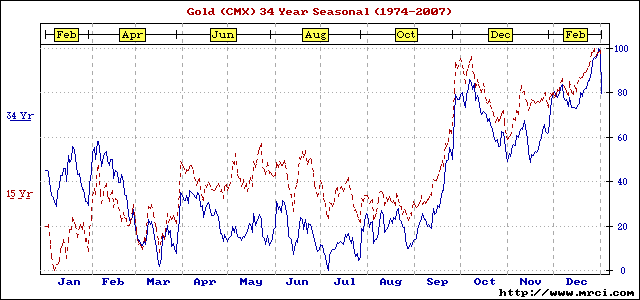 Leave a comment
You must be logged in to post a comment.